Shannons Eastern Creek Classic (2011)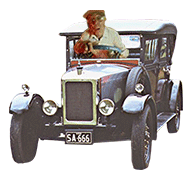 The 2011 Shannons Eastern Creek Classic was as varied as the weather last Sunday! With makes and models of nearly every origin, there was certainly something for everyone. As usual the calibre of cars represented was top notch. With makes varying from Rolls Royce to Volkswagen and Cadillac to Toyota, not many missed out. Siddeley's however, were not very well presented with only two cars in attendance. I'm guessing everyone is saving up for next weekends' All British Day!
My favourite cars of the day included a beautiful blue Triumph TR5, rare black GTR Torana, lovely Mk1 Lotus Cortina, more modern but equally interesting 1980's Toyota Soarer and of course the two gorgeous 18HP's!
The day was extremely well run with each club getting the opportunity to perform parade laps of the Eastern Creek track, which ran like clockwork. There were also a fleet of double-decker busses on hand to ferry others around the track.
That's all for now - I will see everyone next week at Kings School for the annual All British Day!
See you all at my next club outing......

Related pages