Goodwood Revival - Day 1 (2011)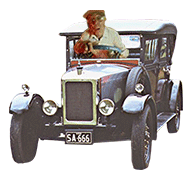 Goodwood Revival - Day 1
We arrived last night after a fast and furious cross country run from Cardiff in Keith Dewhurst's 236. Once again I was impressed with the style and performance of this model of AS. However, the colour of Keith's car is um to put it mildly, ostentatious compared to Helen Andrews' conservative BRG car!
We parked the 236 in the special car park for classic cars, surrounded by a variety of models we can only dream about in Australia. Rows and rows of lovely cars stretched out as far as the eye could see in all directions. The highlights included exotica like Aston Martins, Lagondas and a Star Sapphire!
Before we even got to the racetrack there were numerous stalls selling classic car memorabilia and spare parts and Keith even bought some new handles for Selwyn's hearse. There were numerous stalls selling vintage clothing and Helen just resisted the temptation to buy a vintage fur stole, even though she was surrounded by milling crowds of ladies and gents in period clothing.
On purchasing the exorbitantly priced auction catalogue we were treated to the spectacle of well heeled Poms spending ridiculous amounts of money on sometimes questionable cars, eg an ex works rally Mini for $100k.
The day was also graced by a fly past of a plethora of Spitfires
In complete contrast to the usual British weather, the sun shone brightly all day. Now it's off for a feed and some rest before doing it all again tomorrow.
........Watch this Blog!

Related pages