Athol Duncan on Stationary Engines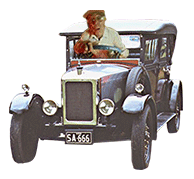 A recent Blog posting by Sid concerning Armstrong Siddeley stationary engines aroused Athol Duncan's interest and the two of them go together for a chat about Athol's involvement with these often-forgotten Armstrong Siddeley products.**

Athol:** Sid, I see that you mentioned me in your last blog about stationery engines.

Sid:** Yes I did Athol, I was kind-of hoping that you would tell me some more stories.

Athol:** Well I came in contact with the engines in the early nineteen fifties. I was working for the Australian United Steam Navigation Company; it was a subsidiary of the old British India Company. I was working on repairs to overseas and coastal ships, it was long hours and big money for the time.

When we had no ship work, I and a few others were required to keep a low profile on the wharfs in the wharf sheds as the Foreman had no job for us in the workshop. In one shed there were about five engines all connected to pumps, some big, some small, for pumping out ships with leaks. One engine was an Armstrong Siddeley Diesel.

Sometimes the Charge-hand would say, "Let's start the Siddeley." The engine would always start first go, so we always chose the Siddeley ahead of any of the others.

Sid:** What car were you driving then Athol?

Athol:** In those days I was driving a 20 HP Armstrong Siddeley.

Sid:** What was your next contact with the Armstrong Siddeley Diesel Engines?

Athol:** My next contact with the Armstrong Siddeley Diesel was when visiting a friend at his small farm at Toogoolawah in Queensland. My friend's father had bought the engine before 1958 and used it on his farm at Bowraville in NSW. My friend, Neville Churchill used this engine for pumping until recent times.

Sid:** Do you have any other stories concerning an Armstrong Siddeley Diesel?

Athol:** Yes, a few years ago Ross Garland and I went to an auction of stationery engines at Caboolture, Qld. There were two A.S. diesels for sale, one had an interesting past.

You may recall from war history when Singapore was occupied by the Japanese? A plan was hatched to use the former Japanese fishing vessel, Kofuku Maru (meaning happiness or good fortune). The vessel was renamed Krait (a deadly species of snake) and sailed to within twenty miles of Singapore in 1943. The operation, codenamed Jaywick, sank about 40,000 tons of enemy shipping in a night raid on vessels anchored in the Singapore Roads. The fourteen men involved in the commando raid successfully escaped.

Well a movie was made about Operation Jaywick called "The Highest Honour" (also known as Heroes of the Krait). They got an old boat and made the movie and they needed electric power on board. The electric power was supplied using this twin cylinder Armstrong Siddeley diesel engine. All this information was displayed with pictures at the Caboolture auction.

Well Sid, that's three stories about Armstrong Siddeley diesel engines that I have come across in my life.

Sid:** Thanks so much Athol, we'll have to do another interview sometime.

Athol:** Ok Sid, it's always a pleasure chatting with you.
Related pages