Federal Rally in Toowoomba (2011)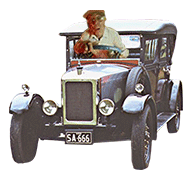 See what I (and other Club Members) have been up to at the Federal Rally in Toowoomba.
I left Sydney on Thursday at 9:15 hidden aboard Peter Hills' Hurricane and we made good time to Scone for our lunch stop. Peter's car cruised comfortably at 93km/h (as per the sat nav) as all good 18's do. We saw a black Star Sapphire speeding past us on the way to Armidale and we noticed that there were lots of police patrolling the highways. We arrived at Armidale at 6:15pm, the Hurricane running like a dream all day.
The next morning we left Armidale at 8:30am amidst drizzle and fog and stopped for morning tea at Glenn Innis. My chauffer had to resort to using the reserve petrol tank 10km outside of Deepwater!
Our lunch stop in Stanthorpe (QLD) gave us just 144km left until we arrived at Toowoomba. Over the trip so far, the oil pressure sits at a steady 40psi with water temp staying at or below 170 degrees F.
* * *
After a trouble free trip from Armidale to Toowoomba, I settled in to the 2011 Federal Rally with many members commenting that it seemed as if last years Rally was only yesterday.
Friday night involved a beaut dinner at the Park House Cafe, conveniently located just next door to our accommodation, with all attendees receiving their official welcome to the rally.
Very early Saturday morning saw the motel carpark full of eager Armstrong Siddeley owners giving their vehicles a last minute spit and polish, ready for the much anticipated Concourse d'Elegance. This years concourse was held at the premises of the Darling Downs Vintage and Veteran Car Club (DDVVCC). All cars on display were well presented (though not in correct chassis number order as I had expected!) with some excellent examples taking home their fair share of prizes. Notable entrants included Paul Caro with his Vintage 20HP, Helen Andrews with her beautifully restored Hurricane and Richard Tonkin's Best Overall Typhoon. Full results (and results for all previous years) will be available soon on the concourse section on the website.
Saturday lunch was provided by the DDVVCC and was as impressive their club premises. Saturday afternoon saw an eventful club AGM with the election of Tony Carter as the new Club President, following the retirement of Sir Robert Woods. The remaining positions of the board were uncontested and remained unchanged. Saturday dinner was again at the wonderful Park House Cafe, which continued quite late into the night for a some members.
Sunday morning we travelled to Oakey to the Museum of Australian Army Flying. They had an excellent display of aircraft from all eras and disciplines. The guide was very informative and seemed to know absolutely everything about all the aircraft there. They even had a moving display of a Rolls Royce Merlin engine.
After the museum we all had a drive through the beautiful countryside to a local pub for an excellent lunch. After lunch we had a small amount of free time before the annual auction. As per usual, our master auctioneer Penn Bradly ran the auction in his typical form. There were lots of exciting treasures offered for sale with several club members ending up with much more than they anticipated.
The Sunday night presentation dinner was held again at the DDVVCC's premises with dinner prepared by the Country Womens Association (CWA). This is the formal presentation for the prizes won for the concourse judging as well as other categories both related to the cars and not.
Monday we are off to the Cobb and Co museum then a tour around the Toowoomba hinterland.
Monday morning I again stowed aboard Peter Hills' Hurricane for the short trip to the Cobb and Co Museum of Toowoomba. This is a very interesting place rich in history with even our gracefully aged Armstrong Siddeley's seeming like luxury transport next to the horse drawn carts and caravans of yesteryear.
After a very informative tour of the museum as well as a beautiful morning tea of scones with jam and cream, we assembled in the adjoining carpark for a tour of the surrounding hinterland. Members of the DDVVCC very kindly agreed to show us around some of the countryside. One particularly steep climb had the poor Hurricane (as with most of the cars there I assume!) resorting to 1st gear. The view was worth the climb.
Proceeding a top class lunch we made out way back to the motel for a technical presentation by Sandy Cameron on Restoration tips. This was a very useful and informative presentation with everyone in attendance learning something new - even our resident expert, Penn Bradly!
This morning (Tuesday 17th) consisted of the farewell breakfast at the Park House Cafe. As usual the food was top notch, and this was where we all said our goodbyes.
Until next year.....