Athol Duncan Interview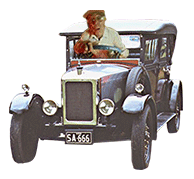 Sid Armstrong interviews Athol Duncan from Queensland about his Memories of Armstrong Siddeley Cars**.
Athol puts his memories very honestly and says, "This is all from memory so I don't claim to be 100 per cent accurate".
Sid:** Athol when did you first travel in an Armstrong Siddeley car?

Athol:** My Father bought his first 1923 - 14 HP around late 1924. So from about when I was only one year old I travelled by Armstrong Siddeley. The car spent most of its life with chains on, travelling around Ringtail, Pomona, Kin Kin and Tawantin areas. I learned to drive in that car when I was just 14 years old, when living at Landsborough.

Sid:** What were some early experiences in the cars?

Athol:** My Father's 1923 Model had big diff trouble around 1934-35. However the main differential assembly was able to be fitted with a far better unit brought out in maybe in 1925. The old diffs had a very weak spider and the cage was bolted together with only 4 bolts. The new Spider was much stronger and heavier with the centre being almost solid in the middle. The Diff cage was heavier, bigger with 6 bolts. Here is a drawing to show what I mean.
Sid:** You owned two early models as a hobby, what is the story there?

Athol:** Yes, as a hobby I had 2 1923 Model Tourers. The first one had only one owner and I think old Bert Roles only had this one car and used it till his old age. This car was imported with an English body. When I bought it in maybe about 1960, it showed 99,000 miles and I believe it. Every part of the car was badly worn. The chassis rivets were all loose or broken; a diagonal reading over 4 points showed a three inch difference. I did a lot of work on the car to the best of my ability, and then it was sold to Athol Todd; who had Dennis Beazley of Tamworth do a reasonably good restoration. It is now owned by Alan Eager.

The next 1923 Armstrong Siddeley I bought was a 14 HP Tourer with a Brisbane body and much better looking than the first. I bought the car in pieces. The previous owner had had all the brake gear restored very well. The engine (new poured bearings) was bored and sleeved to the original 3". The lightweight Aircraft type pistons had had the ring grooves deepened for the thicker rings. After using it for only a short time, the top came off one piston - the thickness at the break was about 1mm.

I bought 6 new Holden 3" pistons and machined slightly and in went 4 of them. I replaced the old tea-strainer oil filter by taking half inch copper pipes in and out and through a Z9 throw-away filter.

Sid:** Athol, you mentioned modifying a later model diff for this car?

Athol:** A friend gave me a beautiful later diff assembly and I only had to machine 3/16" or 3/32" off the crown wheel, it fitted perfectly. One could throw it off a narrow bitumen road at speed and it stayed on the road like a new car. I did a 600K. round trip, picking up Cliff Grice at his place & we went to Brisbane, Cliff can tell you how we flew along. And at the Stanthorpe Rally, it shot up Cunningham's Gap, no sweat. On the return journey my Brother-in-law followed me and he said I did 80K up & down. It seemed to be able to climb anything in top gear. 80Kph was no where near top speed. I sold the car to Ken Frost.

Sid:** You also drove your Father's 1931 Twenty?

Athol:** Well, about 1938 my Father bought a 20 HP Sedan of about 1931 vintage. In 1950 some friends and I did an overnight trip to Sydney from Brisbane in my Father's 1931 twenty. On the way down we broke a main leaf rear spring. We stayed two days and returned home overnight, I changed the magneto (spare) at the bottom of Bolivia Hill in the middle of the night. We arrived in Brisbane at 6.00 or 7.00 am. I wrecked that car for scrap. A man bought the gearbox to put in a racing car.

Sid:** And you had a 1929 side valve 15 HP single seater?

Athol:** In 1947 my Brother-in-law and I bought a 1929 side valve 15 HP single seater. We converted it into a Tourer with Hood. We used this car for about 5 years. I bought and ran a long wheel base 20 HP that my wife's Uncle had turned over in the Dalby area. I put a Holden Body Shell on it and used it till I bought the 18 HP Whitley in 1955. The Whitley had done 35 to 40,000 miles when purchased.

Sid:** Athol and you have had some other cars?

Athol:** I suppose the best car I ever owned was a 1965 Humber Super Snipe bought very cheap, it did over 100,000 miles in ten or eleven years. I put rings in the engine and some work on king pins. The car cost me about $1,000 over the period using my own labour and I only changed the gear box oil twice.

The only new car I ever bought was a Holden Camira, a very stable and good handling car (Far better than the Toyotas and Nissans of my Friends (my Friends said that). The engine was a good example of German engineering gone MAD. In order to fit a new timing belt, the housing that held the timing had to be smashed as the fitting would not release. This was a common practice in order to be able to get the part out.

Sid:** Have you also enjoyed later model Armstrong Siddeley Cars?

Athol:** When I bought the Sapphire off Harry Cooper and the 236 off Brian Watt, the Camira stood outside. So we drove the Camira to Perth and gave it to my son. I ran the three Siddeleys for 10 years (18 HP Whitley, Sapphire and the 236), 75,000 miles in the Sapphire, 26,000 in the 236 and quite a lot in the 18 Whitley including the two Safaris, the 1994 one and Andamooka 1996. In the Whitley I did 110,000 miles as an everyday car and 116,000 miles as a classic car.

Sid:** Athol, I would very much like to chat some more about your lifelong experience with Armstrong Siddeleys. Let's arrange another interview.

Athol:** Sure, Sid - it's been a real pleasure talking with you.

Sid:** Thanks Athol.