RACV Rally - City to Healesville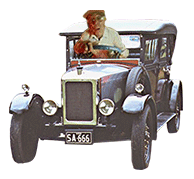 You will recall in my previous BLOG that I mentioned that I participated in the RACV rally from the City to Healesville. With my film now developed and the pictures mailed to the webmaster I though I'd expand some more on my delightful day with Selwyn & Jenny Allen in their magnificent Mk2.
At the Royal Exhibition Buildings in Melbourne I jumped out of the Presidential car after the long journey taking in N.S.W., South Australia, and western Victoria. A very comfortable seat was found in the back of the Allens black Mk.II.
Sunday October 23rd was a very warm day, and following two snaps of the Presidential Mk. I 4 light (photos opposite), we travelled out to the RACV Country Club in Healesville by the prescribed route.
Armstrong Siddeleys almost dominated the 150 car field with six cars out of the total interspersed through the cavalcade. Cameron Wright had journeyed down from Learmonth in his resplendent ex New Zealand Mk. II, the award winning "Humphrey" the Typhoon made his appearance and strategically placed himself very near the entrance to the Motor Classica show, which was included as a part of the very entertaining day. The vendor stalls on the second floor were a trap for the car enthusiast, with many attractive sale items attracting brisk business with drivers and their partners.
The Healesville Country Club was a perfect setting to display fine cars, and a delicious lunch was served by the RACV Staff. Special thanks to Sue Purcell for kindly reserving an excellent table for our group of 12 (actually thirteen if you include me). Following speeches by the RACV Club Chairman & President, Professor Peter Chandler, and A.O.M.C. President Iain Ross, we bid our farewells and I sneaked back into Tony & Tina's car so that I would not miss the remainder of the travelling Club member round-up of South-eastern Australia.
See you all at my next club outing......

Related pages