A trip to Pokolbin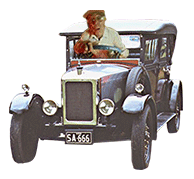 A trip to Pokolbin
I was pleased to accept an invitation from the NSW Branch to join them on a trip to Pokolbin in the Lower Hunter, the historic wine-producing area known for its robust 'reds'. The weather was uncommonly fine - a rare dry day in a prolonged period of rain-soaked days.
It had been an unconscionable length of time since I last visited the area and much has changed. Many of the club members expressed fond recollections of a bygone era of scruffy 'cellar doors' and their proprietors who held forth on the virtues of their wines and historic, ie ramshackle & dirt-floored, premises. I recall that as the afternoon proceeded, 'mine host' would invariably become louder and less coherent, while dishevelled retainers filled the flagons that patrons brought along for their supplies. Whoever said that recycling is a new fad?
Some of the members present are in my photos above. Lyell Murrell, Pam, John Graham, Peter Kirsop & Andrew Hyden are in the photo below. It's a pity that Tina & Tony Carter, Helen Andrews and Elizabeth Hyden somehow managed to avoid my camera lens.
In the new millennium, I fear that the rustic charm has been entirely replaced by tourist-chic, which has transformed the area almost entirely. Maybe it's a good thing, replacing the cockroach with the overseas tourist.
I am unconvinced, but as one of advancing years, am happy to defer to those who prefer air-conditioned conveyances with electric windows and no double- declutching.
I cannot describe my pleasure at being invited to travel in the gleaming 14hp 'Mendip' (opposite) ably piloted by John Graham. I was transported back to the days of yore.
However, Julie Hills' mother, Pam, inexplicably declined to ride in the only remaining seat whilst we travelled through the countryside.
........Keep watching my Blog for my next outing.