Interview with Tony Carter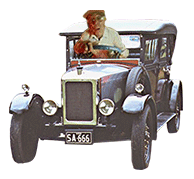 Sid Armstrong's interview with Tony Carter, reflecting on Tony's thoughts at the completion of his first year as the Club President.**

Sid:** Tony what is your background with Armstrong Siddeley cars and the Club?

Tony:** Although I have been a member of the Club since 1987, and my Father a member from 1964, I have largely been a knife and fork member. Distance and our other commitments really limited involvement to Rallys. The Sapphire I have is originally our family car purchased new in August of 1953.

Sid:** Why did you take on the role as Club President?

Tony:** When Sir Robert indicated he was standing down, Penn Bradly rang me and caught me at the right moment to say "yes I would take it on".

Sid:** What happened then?

Tony:** I had some months to realise how much I didn't know about cars and appreciate what I wanted to know about the inner workings of the Club. I have been fortunate the Board and Members have been very helpful. I've held similar positions in the past, and each organisation has its own collective personality. This Club has been built up over half a century and many good people have contributed to the process. The President's role is one of stewardship. In public life I've seen inexperienced leaders think they are making a mark by implementing rapid change. Sadly they trash a collective inheritance.

Sid:** What do you mean by the role of stewardship?

Tony:** The role of stewardship is to progressively move to the future building on the inheritance from the past. We now have well over a century of history relating to J.D. Siddeley and Armstrong Siddeley. Our Club and the other clubs around the world have moved past the point of just being car clubs, they also have a historical dimension. Our future depends on the preservation of knowledge about the marque and educating interested people about the marque and its place in motoring history.

Sid:** You speak of building on the inheritance. What has happened in the past year to show results?

Tony:** We appointed the Pre-war Project Team working with ClubVice-President, Richard Tonkin to find out where surviving cars were located in Australia. That is proving to be a tremendously successful ongoing project creating a great deal of interest within the Club. The period 1919-1939 is one of the most exciting eras in the development of motor vehicles and Armstrong Siddeley was very strong particularly here in Australia. It is an era largely overlooked and we should as a Club know a great deal more about it.

Sid:** Do you think the Club will also look towards a Post-war Project Team?

Tony:** I think it is a logical extension of the process, there are some different issues. But we have developed good skills which will make some things easier for the next team.

Sid:** How do you think the Club is developing its support for new restorers?

Tony:** We have established Model Contacts as a first point of enquiry. There have always been very good members in the Club who have devoted untold hours to handling queries about Armstrong Siddeley vehicles. Now there are designated people to contact first up.

Geoff Tuckwell is now our Director of Spare Parts. That means Geoff is responsible to the Board for managing our spares function in Australia. Sandy Cameron is now our Director for Technical Services. Sandy's role includes a program where we research our past and promote our future in the development of technical information and in preservation and education.

The important thing is to move carefully forward putting the building blocks in place, embracing the benefits of modern technology to achieve our objectives.

Thank you Tony.

Thanks Sid.
Related pages