The 11th Goldfields Weekend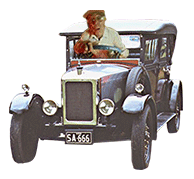 The 11th Goldfields Weekend
After the trip back to Quirindi with the President and First Lady, I hitched a ride south with a kindly grain haulier operating between Dubbo & Ballarat. Alighting this large and not overly comfortable B double at the Learmonth turn-off I made my way to the Shire Hall arriving in the late afternoon of Friday November 4th.
I came across Cameron and Megan Wright and their family putting the finishing touches to the preparation for the Goldfields week-end Welcome BBQ. The rest of the Pyrenees organizing team were on hand to lend physical support, John Day, Garry Ford, Ann Lees and chef extraordinaire, John Purcell.Making the journey to join the merry throng were country members Graham & Pauline Carson and Peter & Ann Mitchell. Penn & Miriam Bradly made the trip from Central NSW and a strong representation from South Australia was led by Ian & Marylyn Bell. The night was well attended and after an enjoyable dinner and many, many long conversations, I eventually retired to my room, eargerly anticipating the forthcoming Saturday activities.
The highlight of the daylight events was the visit and lunch to the Mooramong Homestead which is now National Trust of Victoria property. Members were treated to a guided tour of this small piece of local history, which is the backdrop to the life story of Claire & Scobie Mc Kinnon, a captivating story of a wealthy young man and his glamorous Hollywood movie star wife, who influenced his life following their meeting and subsequent marriage in southern England. Amongst the many stories that grew around Mooramong was the story of sheep being transported in a Rolls - Royce, which many Australians have regarded as a motoring bush tale, well folks, at Mooramong it actually happened, and on multiple occasions!
Lunch for the thirty plus members was served by the luxurious swimming pool, again a project of Claire's, which was built in the late 1930's; around the time that Mooramong was transformed into a Skipton version of Hollywood. A quintet of Armstrong Siddeley Sapphires parked in the front garden were right at home in these opulent surroundings.
For those who were less tired by the tour and lunch, a charming garden setting and afternoon tea location at Brewster was well patronized, with members occupying two large tables and whiling away what remained of the afternoon in lively conversation. Here we were joined by Neil and Margaret who caught up with the group following their commitments in Melbourne.
Saturday night's dinner was a continuation of the old world surroundings and charm of Mooramong, set at the Learmonth Shire Hall, where we managed to fit into large rooms and be looked after by the Goldfields organizing committee and their willing band of helpers. Setting the scene for the evening were a trio of local musicians who played a selection of instruments to the delight of the dinner guests. During dinner our northern cousins from Sydney arrived, Peter & Julie and Peter who were enrounte to coastal Victoria for a very special family gathering.
Our last full day, Sunday 6th dawned bright and clear. It was good to see Lake Learmonth brimming with water for the first time in years. After a hearty breakfast was taken, we all met for a group photo before departing for Lambden Gardens where a fine array of plants and trees were on display.
The group then took the twenty kilometre drive to Lake Wendouree where one of Ann Lees lunches and a Victorian Branch Meeting awaited. Those not attending the meeting took a stroll by the rejuvenated lake or the Ballarat Botanical Gardens. Finally we all said our farewells and headed for home after yet another very successful week-end. I would especially like to thank Cameron & Megan, John & Garry and Ann for a memorable few days in the Goldfields area of Victoria.
........Keep watching my Blog for a report on the NSW Branch Christmas function!