Reminiscing about my lost Pinup Girl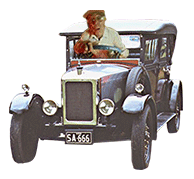 Reminiscing about my lost Pinup Girl
Dear friends, I fear that my reports haven't been regular since my trip to the UK. I have had the flu and only just managed to see the fine turnout of twelve Armstrong Siddeleys at the All British Day in late August at the Kings School in Parramatta.
During September I fell to reminiscences about my tour to the UK. The fine people at the ASOC Rally plied me with good spirit and at my age, my eyesight is not the best.
This leads me to make a confession.
On Sunday at the Attwell-Wilson Motor Museum at Calne, I sighted a fine looking, young, red-headed woman standing near a 1934 Armstrong Siddeley Sports Tourer. My old heart stirred as I thought of my former successful gambits.
Ready to roll out the "Fine motor you've got there M'dear, got much power under the Bonnet?" in I moved.
The words choked in my throat as I got closer and realised too late that it was just a dummy clasping a tennis racquet and ball!
Ever a quick thinker, I quickly raised the camera and took pictures of the car and my "lost" Pinup Girl to hide my embarrassment.
I managed to make it up to Maitland for the NSW Branch get together in mid- October. There they were - all the bright young things starting their planning for the May, 2014 Rally. Plenty of fun ideas were bounced around and I'm definately planning to be there.
........Until my next Blog!