The Great Australian Rally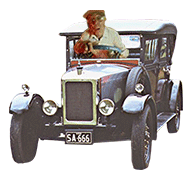 The Great Australian Rally
In the afternoon of January 14th I was taken to the Greyhound Bus Terminal in Sydney for a coach ride to Melbourne for the Annual Great Australian Rally sponsored by the R.A.C.V. which is run for the benefit of the Peter Mac Callum Cancer Institute. This event was started in 1991 by the Armstrong Siddeley Car Club and while the organizers have changed and the format has slightly altered, running it for the benefit of cancer research is the prime factor which galvanizes a great event year in year out.
January 15th bought a hot Melbourne summer's day. Groups of enthusiasts started the rally from various points such as the central city. For the veteran vehicles the starting point was the City of Casey in NarreWarren which being not that far from Mornington, gave them a much shorter drive.
The ASCC was well represented amongst the officials with the judging panel including Brendan MacNamee and Sandy Cameron and Nello Mafodda being one of the site marshals. Richard Tonkin brought down the award winning "Humphrey" (photo below). It was such a thrill for me to be allowed to ride to the Rally in this magnificent example of the Armstrong Siddeley marque. Paul Rowe was in attendance in his green Rolls-Royce Silver Shadow as the battery in his Star refused to co-operate forcing a last minute change of vehicle.
As usual, the show was a great success with Australia's own car the Holden taking out the Best Late Classic and the Penrite Oils Award. The standard of cars at this event continues to improve as each year goes by as does the variety of the display. It is very impressive to see the work of many of the restorers amongst the historic car fraternity and the outstanding examples of many different marques displayed each year.
A big thank you to Richard Tonkin who kindly allowed me to use some of his photos for my Blog, for the unforgettable trip in Humphry and for taking such good care of me.
With 2012 off to a thouroughly enjoyable start, I hope for three things;
That I can come to Melbourne again in 2013 for this event and the Branch barbeque.
That the Victorian Branch members are in a position to include more of their cars.
That members of all the Branches keep me as busy as they did last year.
See you at the Victorian Branch BBQ in a few days time,

Related pages