The 2012 National Rally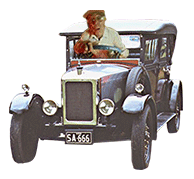 The 2012 National Rally
Following my
eventful ride
down from Queensland, travelling almost all the way in Paul Caro's Ruskin bodied 20 HP, and then in a hired unmentionable, Paul, Trevor Johnsson and I finally managed to arrive at the Coolangatta Resort in Shoalhaven Heads, our Rally Headquarters for the weekend.
I have to admit that the style and grace of Paul's 20HP saloon was far more enjoyable than the mass motoring alternative we had to adopt after the second magneto break-down at Charmhaven, near Lake Macquarie. Nevertheless we are grateful for the care and attention shown by Shannon's Insurance, and the N.S.W. motoring organization the N.R.M.A.
Once at the resort, the warmth of the Friday afternoon sunshine combined with many Siddeley enthusiasts gathered on the lawn quaffing wine and cheese and relaxing in each other's company whilst giving John Graham "helpful hints" on the repair of his 15 H.P. Limousine set the scene for a memorable Federal Rally.
As a regular attendee at many Armstrong Siddeley club events around Australia, and being familiar with the standard of cars at most of these events, I have to say the fine examples of the noble breed at Shoalhaven was particularly impressive. There were cars present that had not been to a Federal Rally for at least the past twelve years!
The weather for the entire four day Rally was warm at sea level, but understandably cooler in the nearby mountainous areas that the program embraced in the latter stages.
The 2012 Rally was a mix of all one looks for in a National Rally:
Interesting and never before visited locations
Fantastic scenery
Picturesque drives
A great group of rally participants.
A program that covered everything including some relaxation.
Loads of laughs - here's just three examples:

some members stopping for pies after consuming a huge lunch,
the comedy of a Penn Bradly run Rally Auction,
the President and Vice President becoming hopelessly lost in the hinterland while motoring in a Sapphire.
Now I would like to formally recognise the many hours some of our members have put into their award winning cars:
John & Elizabeth Milverton's Station Coupe (C1811489) won both the Utility/Station Coupe Trophy and also the 16/18 HP Class Trophy.
Graham & Pauline Carson's 6 light twin- carburetter preselect Sapphire (C340014) took home four trophies:
* Mk.I 346 Sapphire * Best Overall with a score of 962/1000 * Best Restoration - first time presented, * The Ron Beer Memorial Trophy for mechanical excellence
An eleven year project now virtually completed.
Other trophy winners I would particularly like to mention are:
Hard Luck Trophy - Paul Caro (yet again!) - 20 HP AS 44351. Read my 2012-05 20HP/">on the spot report of the electrical gremlins that Paul, I & Trevor Johnsson had to quell during our eventful drive from Queensland.
Longest Distance Travelled to the Rally - John Day & Garry Ford - 960 km Mk. II Sapphire 346 C346512.
Longest Distance in the twelve months since the last Rally - Tony & Tina Carter - who covered south eastern Australia in the latter half of 2011, in their 346 Mk. I 4 light twin carburetter synchromesh Sapphire C 340412. You can read about the trip I took with them in my blog.
Club Person of the Year - Helen Andrews for her solid assistance in the planning and conduct of the 2011 Rally at Toowoomba, underpinning the efforts of the Queensland Committee.
For those of you wishing to learn more about Federal rallies, may I suggest that you sign up for Hunter Valley 2014.
........Watch this Blog!